What the Eyes Don't See: A Story of Crisis, Resistance and Hope in an American City by Mona Hanna-Attisha
[Audiobook performed by the author; 11 hours]
When an Iraqi-born American paediatrician learned there was lead in the Flint water supply, she immediately took action. At first I was a little impatient with the memoir aspect that's interwoven, a lot of personal family history, but then I realized the author was showing us how she became the kind of person who could take on corrupt, lying bureaucrats and politicians. Resilience can be learned: it's one of the things that makes this a hopeful and inspiring true story.
Again and again, the state and federal officials' disdain for Flint was shocking. At the EPA, when asked about using federal money to buy water filters for city residents, the Region 5 Water Division Chief wrote, "I'm not so sure Flint is the community we want to go out on a limb for." The pointed cruelty, the arrogance & inhumanity. Sometimes it is called racism. Sometimes it is called callousness. And sometimes […] it can be called manslaughter.
Friday Black by Nana Kwame Adjei-Brenyah
There's a blurb on the cover from Roxane Gay that says "Read this book." I'm glad that I took her advice because WOW! This funny and gruesome collection of near-future short stories isn't for the faint of heart. Adjei-Brenyah cranks up satire to hyperbolic levels -- and the results are powerful because it's so easy to see what lies beneath the exaggeration: today's truths.
When Marlene was 6 and I was still a crying bag of poop, my parents tried to convince her that having a younger brother would actually help her to be a good teacher because she could practice information transfer on me. They also told her that I could never be in competition with her in life or their hearts after they caught her trying to smother me with a pillow. They tell that story and laugh about it now.
Emmanuel started learning the basics of his Blackness before he knew how to do long division: smiling when angry, whispering when he wanted to yell.
Ghost Wall by Sarah Moss
Quiet and powerful at the same time. The opening chapter, an imagining of a Neolithic ritual, had me worried because I dislike having my emotions manipulated. Fortunately, everything settles down after that, and it becomes a compact compelling story about a dysfunctional family, a queer girl's coming of age, and human connections to nature. Feminist themes are at the forefront. I loved it.
Dad and I find ash, I said, up on the moortops at home, people say they want to be scattered there as if scattering is making something go away entirely and then we sit down with our sandwiches and realize we're in the middle of someone's granny, of course they always choose the places you'd stop for lunch, somewhere on the top of a ridge with a nice view.
I ducked under the flap in the doorway and waited a moment—I could, after all, be going into the wood to pee, or getting a drink of water. Without a house, it occurred to me, it is much harder to restrict a person's movement. Harder for a man to restrain a woman.
My Sister the Serial Killer by Oyinkan Braithwaite
[audiobook performed by Adepero Oduye; 4 hours]
Macabre, shocking and witty. I devoured this short audiobook in a single morning. Psychopaths and psychological thrillers aren't usually my thing; it's the relationship between two Nigerian sisters that kept me enthralled. How far would Korede go to help her sister Ayoola? Also, actress Adepero Oduye's audio performance is brilliant.
Great Believers by Rebecca Makkai
[Audiobook performed by Michael Crouch; 18 hours]
You can never know anyone's marriage but your own. And even then, you'll only know half of it.
Left to his own devices, he'd be listening to The Smiths, which wouldn't have helped a thing. And if it turned out he only had a few years to live, shouldn't he be listening to Beethoven?
For these eight hours, she was unable to do a thing. Being on an airplane, even in coach, was the closest an adult could come to the splendid helplessness of infancy.
Adulthood Is a Myth by Sarah Andersen
I'm guessing that many of you already know how great this self-deprecating collection is, because I've seen Andersen's cartoons posted all over social media. Humour is medicine. It triggers the release of serotonin and endorphins, lowers stress, lifts our mood, helps put problems into perspective, and improves our physical health. We all need to laugh.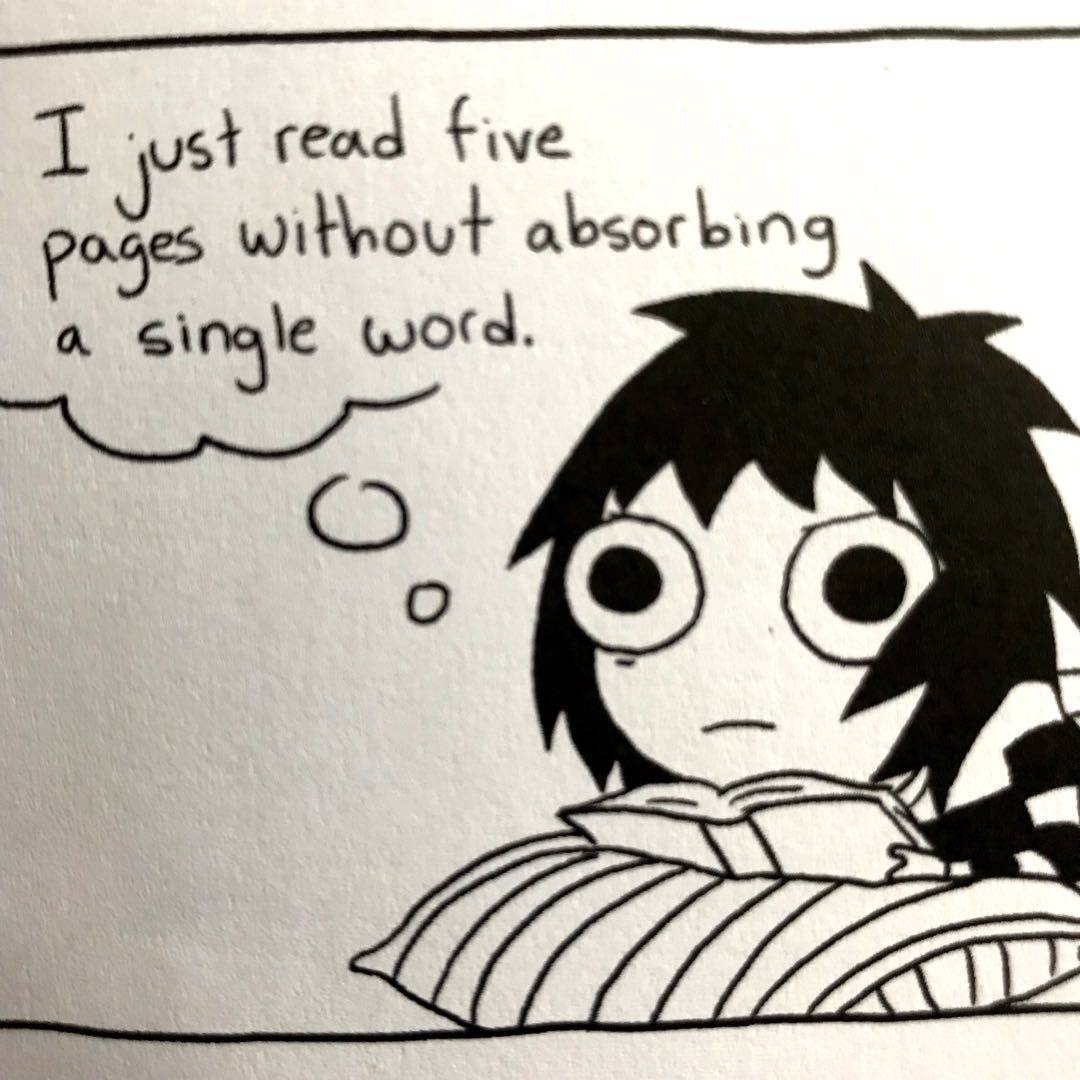 Bloom by Kevin Panetta and Savanna Ganucheau
It's a sweet gay romance in graphic novel format, but I'm not a fan of romance in general, so it was other attributes that kept me interested. What I love most is the believable characterization, capturing the uncertainty and confusion of life after high school, and the weight of parental expectations. I also love Ganucheau's beautiful ink wash art and all the (yummy) extended scenes of baking process.